The New Hampshire Antiques Dealers Association (NHADA) held its annual meeting on November 15, 2018, at the Common Man restaurant in Concord, New Hampshire. After a buffet luncheon, speaker Cliff Wallach gave a presentation about Jasper52, a marketing platform for weekly antiques auctions.
The newly elected officers for the 2019 NHADA board of directors are Thomas Thompson, president; Rich Bojko, immediate past president; Sharon Platt, vice president, communications; Ken Pike, vice president, membership; Josh Steenburgh, vice president, show chairperson; Bev Longacre, director, show cochairperson; Liz Kingsley, director; Adam Irish, director; Melissa Alden, secretary; Peter Sawyer, treasurer; and Richard Thorner, auditor.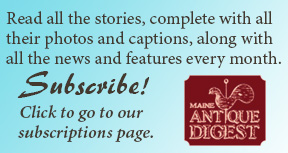 The 62nd annual New Hampshire Antiques Show is set for August 8-10 at the newly renamed DoubleTree by Hilton Manchester Downtown (formerly known as the Radisson Hotel), located in downtown Manchester, New Hampshire. The show will feature 67 exhibitors from all over the Northeast with a wide range of items from folk art to fine porcelain, country and formal furniture, paintings, prints, and more.
For more information visit the New Hampshire Antiques Dealers Association online (www.nhada.org).
---
Originally published in the January 2019 issue of Maine Antique Digest. © 2019 Maine Antique Digest